The Simcoe County Cup has quickly become one of the most prized trophies awarded to young hockey players in Simcoe County at all levels of play. Having already been awarded at centre ice of the Barrie Molson Centre, to 3 deserving teams in its inaugural 2013 appearance, this year over 1000+ kids aged 9-17 will take to the ice in pursuit of their quest to hoist "The Cup" in 2014!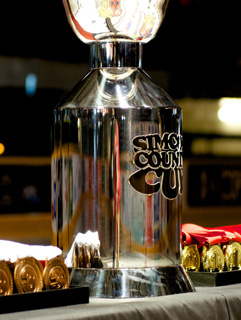 "The Cup" is a symbol of everything that hockey and kids sports is really about... that is, fun, sportsmanship, pursuit of achievement, and gracein both victory and defeat. We're proud of this trophy and plan that it will be awarded for many years to come, to deserving young athletes of all calibers.

"The Cup" is constructed of stainless steel, stands nearly 3' in height, measures 13" in diameter at the base, and weighs in at a healthy 22lbs (it takes a little umph to lift up over your head!). All winners of "The Cup" will have their team name, division, and year affixed to its side, to live on forever!
Special thanks to an awesome partner and sponsor, Stainless Outfitters of Barrie, ON, who have graciously designed, constructed and donated this beautiful trophy. Stainless Outfitters has over 30 years experience in the design and manufacture of qaulity stainless steel products (marine, architectural, industrial, custom). Visit them online at: www.stainlessoutfitters.com.